Palm Trees at Dubai Miracle Garden
Palm Trees with their towering presence, elongated branches and colorful flowers create a pleasant atmosphere at the Dubai Miracle garden. Their branches grow colorful flowers from the upper side. These Palm Trees not only create a small passage for the visitors but also surround the newly introduced iconic theme of huge teddy bear at the Dubai Miracle Garden. Moreover; many other floral themes such as Ants Colony, Turtle Cars and Giraffes bask under the beauty of these Palm Trees of the Dubai Miracle Garden. Palms are one of the most frequent and popular trees across middle east and their presence at the Garden really creates their symbolic integration with the region. Let's further sift through the roots of these tremendous Palm Trees of the Dubai Miracle Garden!
f-Share
Tweet
Linkedin
Google+
Pinterest
VK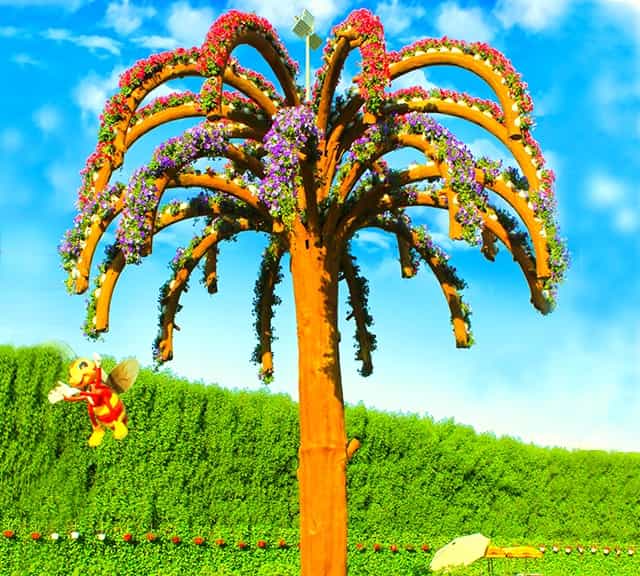 Floral version of Palm Trees are one of the newly introduced themes at the Garden and you can watch them at season 6 of the garden for the year 2017/2018. Do not forget that Dubai Miracle Garden comes up with a new season in November and visitors can watch this season till the start/mid of May. Onwards a new season comes which always promises new and creative floral themes. Therefore; there is always new, there is always wonderful and there is always to something to amaze you at the Dubai Miracle Garden. A floral version of these Palm Trees is one such new aspect of amazement at the Miracle Garden.
f-Share
Tweet
Linkedin
Google+
Pinterest
VK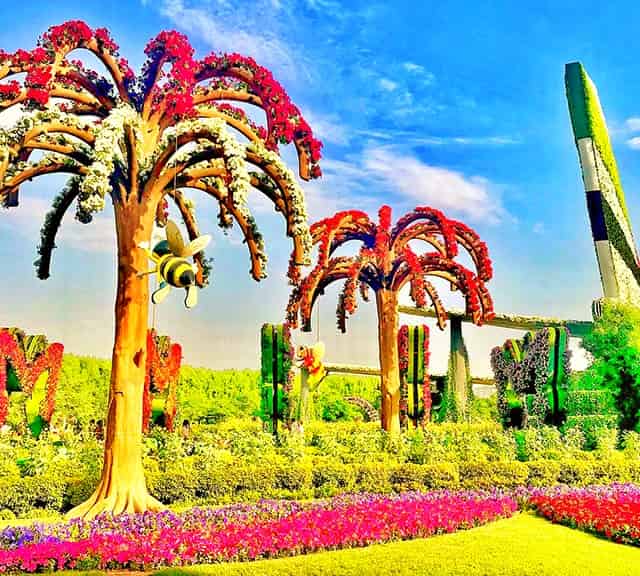 These Palm trees at the Dubai Miracle Garden are decorated with flowers at the top of their branches. All the branches are falling downwards just like the real palm trees and one can visibly see the cultivated flowers on each and every branch of these Palm Trees at the Garden. Furthermore; two rows of branches pop-up from the top of these Palm Trees. Unlike; most of the themes at the Dubai Miracle Garden which are decorated with Petunia flowers, these Palm Trees are planted with Geranium flowers. Each Palm tree is decorated with unique colored Geranium flowers and so far they display white, red, blue, maroon and multi colored (White & Red and Blue & White colored) Geranium flowers.
f-Share
Tweet
Linkedin
Google+
Pinterest
VK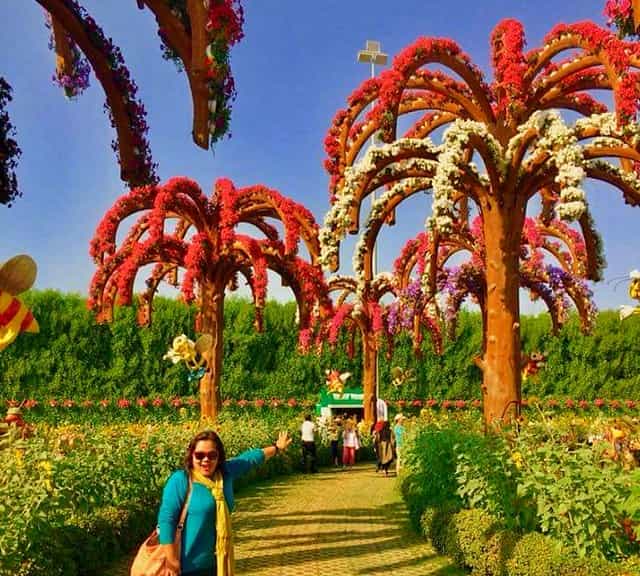 Even though these Palm Trees are not as much taller as the real tall palm trees, yet they still offer towering appearance and have also become one of the tallest floral themes at the Dubai Miracle Garden. Apparently; these Palm Trees are around 20 feet high from the ground level and each stem is around six to eight feet in length. Their main stem is almost one and a half feet in diameter as well. Each palm tree has 22 branches and all of these branches have Geranium flowers grown over their top. Their total numbers are calculated through courtesy of online drone footage for the Dubai Miracle Garden.
f-Share
Tweet
Linkedin
Google+
Pinterest
VK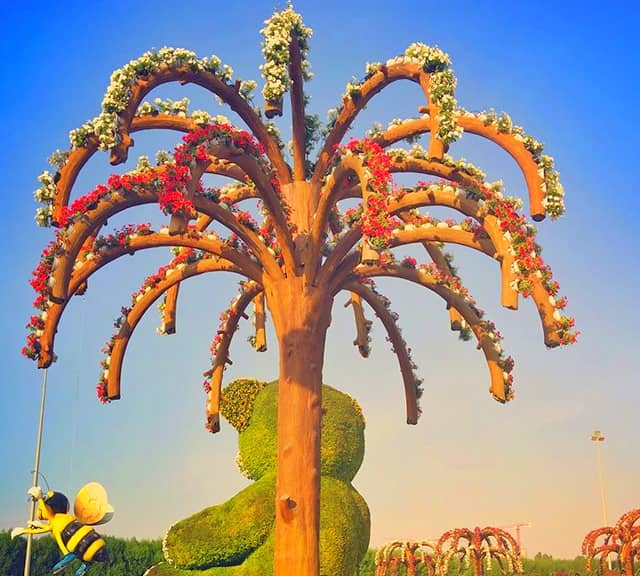 The Palm Trees have a very sophisticated structure. Their branches serve as the flowering pots that carry mud for the growth of the Geranium flowers. It is really some kind of a floral engineering to grow flowers in such a narrow space, and apparently it looks like a big challenge to grow flowers within these branches. These branches are supported by a huge and natural looking stem-like structure of the Palm Trees. This structure for all the trees is painted with a tree like art to make it look like a real palm tree's stem. The main stem of the Palm Tree also has small grooves, as in the case of real Palm Trees. A honey bee is also hanging from one of the branches of each and every Palm Tree at the Miracle Garden.
f-Share
Tweet
Linkedin
Google+
Pinterest
VK
Palm Trees Floral themes have their fascination and interest for the visitors of the Miracle Garden. Visitors love to take pictures with these Palm Trees, especially women visitors who love to have photographs with them. These Palm Trees overlap other themes, therefore; these Palm Trees can be added within the background pictures as a scenery as well. So far we have seen these Palm Trees being beautifully merged with the Giraffes, Ants Colony, Teddy Bear and Parrots floral themes of the Miracle Garden. Even some creative photographers have integrated tried to integrate them with Butterfly Passage as well the Emirates Airbus a380.
f-Share
Tweet
Linkedin
Google+
Pinterest
VK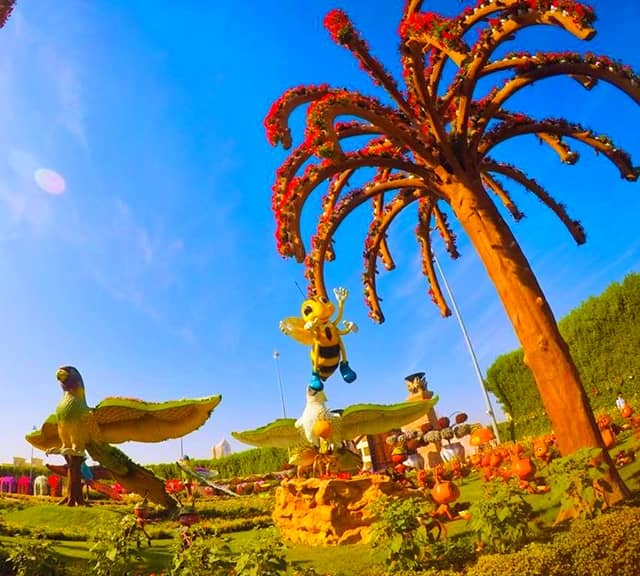 Author: Usman Masood
Published Date: December 18, 2017
Last Modified: December 18, 2017
Publisher: MIRACLE GARDEN BLOG

Genre: Palm Trees, Floral Theme, Dubai Miracle Garden, Dubai
Copyright Holder: © MIRACLE GARDEN BLOG
Copyright Year: 2017