Abra Boats at Dubai Miracle Garden
Abra Boats offer fascinating themes of floral art at the Dubai Miracle Garden. These Abra Boats at the Garden represent traditional water transport system of Dubai. The only difference between the traditional Abra Boats and the Abra Boats of the Dubai Miracle Garden is that the later ones are static (non-operational), yet fully decorated with flowers. Remember; traditional Abra Boats have long (even today) been in operation at Dubai Creek Canal which separates Bur Dubai from Deira areas of Dubai. Recently; in 2017; traditional Abra Boats service is also introduced at the newly built Dubai Water Canal as well. Abra Boats of the Miracle Garden have more to offer in terms of description; so, let's explore these boats further
f-Share
Tweet
Linkedin
Google+
Pinterest
VK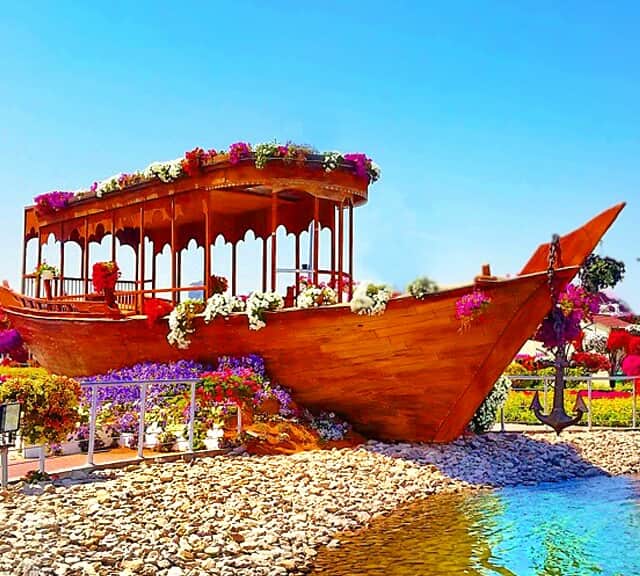 There are currently two Abra Boats at the Dubai Miracle Garden. Both of these boats are beautifully adorned with flowers. The first Abra Boat was introduced at the Dubai Miracle Garden in 2015. Therefore; since the start of Dubai Miracle Garden in 2013; it took the authorities about three years to introduce the concept of Abra Boat for its visitors. Onwards; in 2016 till now, another Abra Boat is introduced at the Dubai Miracle Garden which is surrounded by colorful flowers. Both Abra Boats are placed at different valuable locations of the Dubai Miracle Garden i.e., one being at the pond and the other being at the hill top.
f-Share
Tweet
Linkedin
Google+
Pinterest
VK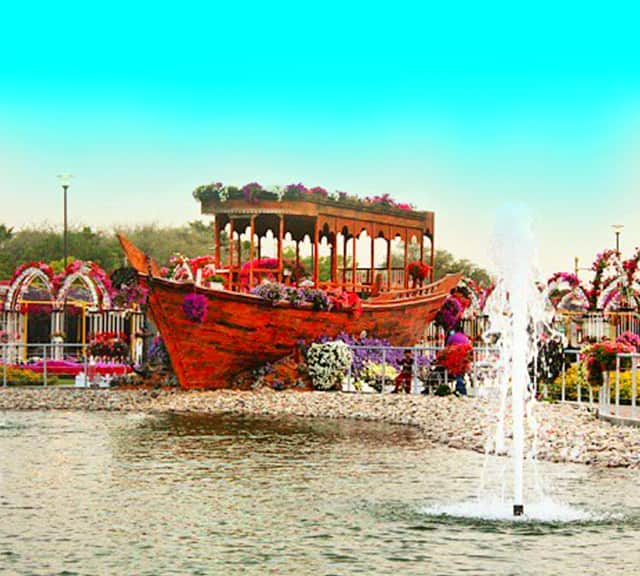 Both Abra Boats at Miracle Garden are huge. They are real standard-sized and fully traditional sailing boats. The only pity is that they are displayed as a floral theme (displaying different flower combinations) at the garden and you can't sit inside them for any other sailing activity. In pictures, they might look small but in real these Abra Boats are huge with a capacity of holding at least 20 people. Each Abra Boat has a length of around 60 feet. The overall width of the boat is around 10 to 12 feet wide. There is also a sitting area within each boat which has a ceiling over its top. This area is around 30 feet long with a same width of around 10 feet.
f-Share
Tweet
Linkedin
Google+
Pinterest
VK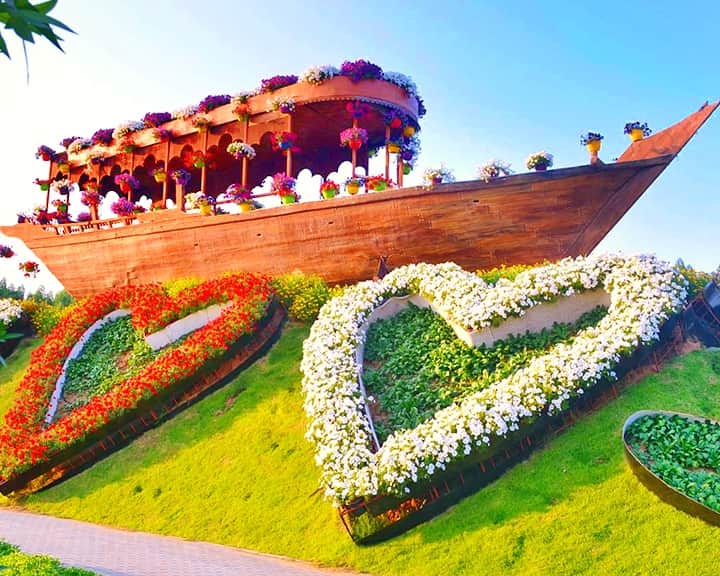 Petunia Flowers are used throughout these Abra Boats. Petunia flowers offer a lot of color options as well as long blossoming interval as compared to the other flowers. The colors of the Petunia Flowers which are used to decorate these Abra Boats include Purple, white and red. The ceiling of the boat's balcony has white and purple colored scheme of Petunia flowers. Yellow colored pots have also been hanged along with this ceiling which carry white, red and purple Petunia flowers. The Abra Boat which is located at the hill top is surrounded by big Hearts. These big-sized hearts are built at the steep and slopes of this hill. There are at least eight big hearts on the slopes plus 4 smaller hearts. The borders of these eight bigger hearts have Petunia Flowers while their inners are filled with Coleuses. The smaller hearts are also filled with coleuses. The other Abra Boat which is located near the pond, gives an impression of a launching pad for the Abra Boat to start sailing. This Abra Boat has a rocky base and has almost same scheme of Petunia Flowers' color combination. This Abra Boat has the same theme of Petunia Flowers except its rocky base has Verbena Flowers as well.
f-Share
Tweet
Linkedin
Google+
Pinterest
VK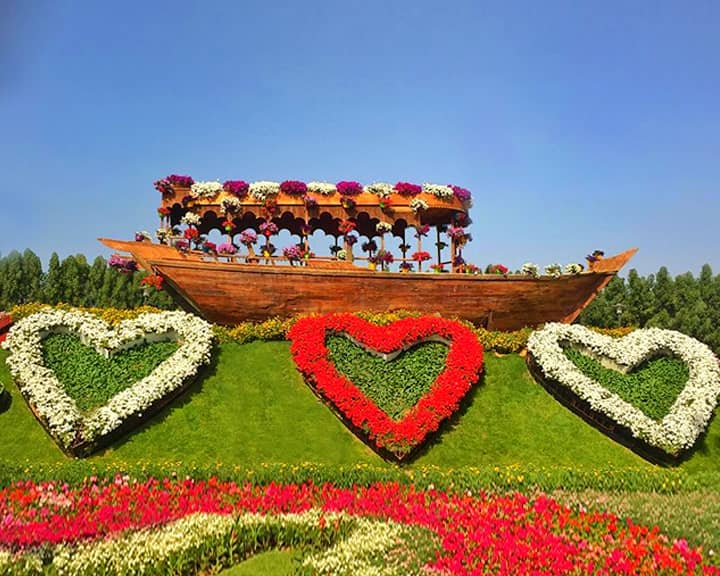 There isn't much information about the Abra Boats of Dubai Miracle Garden. However; from their first look, they looked to be built up of pine, larch, cedar and even oak. The outer wood seemed to be well-varnished which further makes these Abra Boats more stunning along with the combination of colorful flowers. If you are interested in Abra Boats building process in Dubai, then their best demonstration is available at the Dubai Museum which is located alongside Dubai's Al-Fahidi Fort. They even build boats inside that Museum (In 2016 they were building) and also a lot of historical information is available about these Abra Boats.
f-Share
Tweet
Linkedin
Google+
Pinterest
VK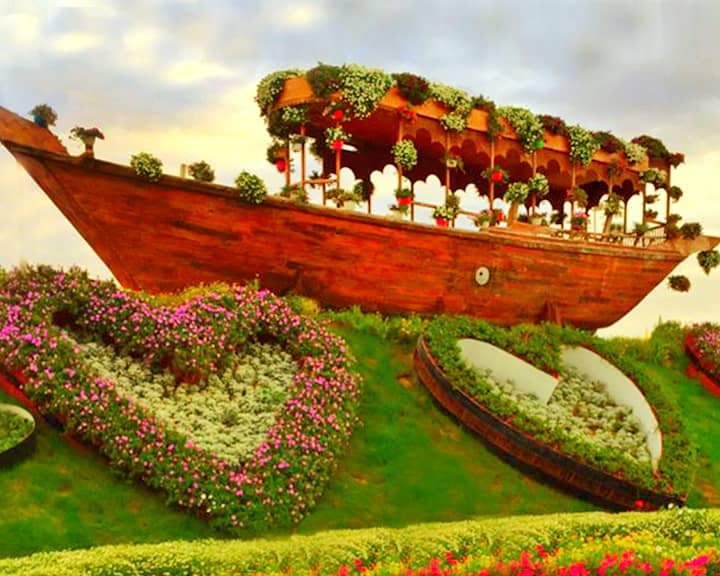 Abra Boats of the Dubai Miracle Garden do offer some really scenic photographs for the visitors. The most popular Abra Boat among the visitors is the one that is located at the Hill Top. The boat is located at such an ideal height and also its huge size allows the visitors to take great selfies and photographs. The other boat which is located at the pond is somehow overwhelmed by the floral themes of the ponds which makes thing too much cluttered at that location. There are also encouraging signs for taking photographs during evening and night times, as both of the Abra Boats get fully brighten-up during those timings.
f-Share
Tweet
Linkedin
Google+
Pinterest
VK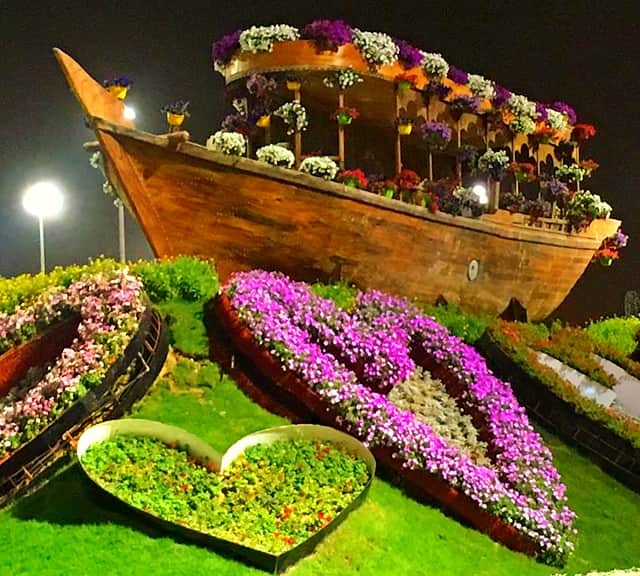 Author: Usman Masood
Published Date: May 20, 2017
Last Modified: May 20, 2017
Publisher: MIRACLE GARDEN BLOG

Genre: Dubai Miracle Garden, Flowers, Sculptures
Copyright Holder: © MIRACLE GARDEN BLOG
Copyright Year: 2017