Mushroom Houses at Dubai Miracle Graden
The Mushroom Houses at the Dubai Miracle Garden along with the colorful blooming flowers give them a fairyland impression. Why? The presence of the mushroom-shaped houses, curved pathways along with colorful flowers, green grass and sunny sky just makes this area of the Miracle Garden nothing less of a fairyland. People recall these Mushroom Houses with different names. Some people call them Toadstool Houses while the others call them Smurf Village and both of the names reasonably correlate with the Mushroom Houses. This area is located at some kind of a small hill of the Miracle Garden and therefore; it wouldn't be wrong to call it even Smurfs' hill as well. However; no Smurf character can be found within this area of the Miracle Garden and the authorities haven't given a specific name to this are either.
f-Share
Tweet
Linkedin
Google+
Pinterest
VK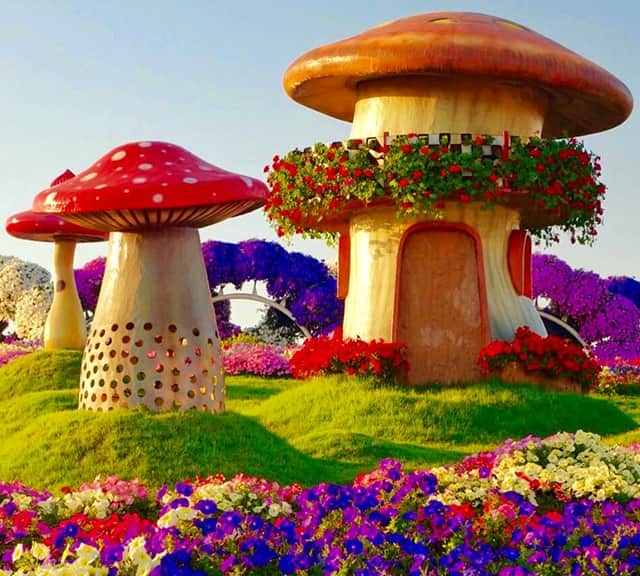 The Mushroom Houses at the Dubai Miracle Garden were first introduced in 2015. Dubai Miracle Garden comes up with a new theme each year and these Mushroom Houses were introduced as part of the third-year theme. The Dubai Miracle Garden was itself initiated in 2013 and as of 2017 it has introduced at least 5 different themes. The theme of the Mushroom Houses looked magnificent right from the beginning and the visitors really gave a positive feedback about it along with admiring the concept. The overall theme was also introduced at one of the top most spot of the Dubai Miracle Garden and having fairylike mushroom houses on the top spot really looked something out of this world. There is one major and properly built Mushroom House which surrounded by smaller Mushroom Houses. There are also two elks sitting near the mushrooms having big horns. Apparently, they give an impression of guarding the mushrooms at the garden.
f-Share
Tweet
Linkedin
Google+
Pinterest
VK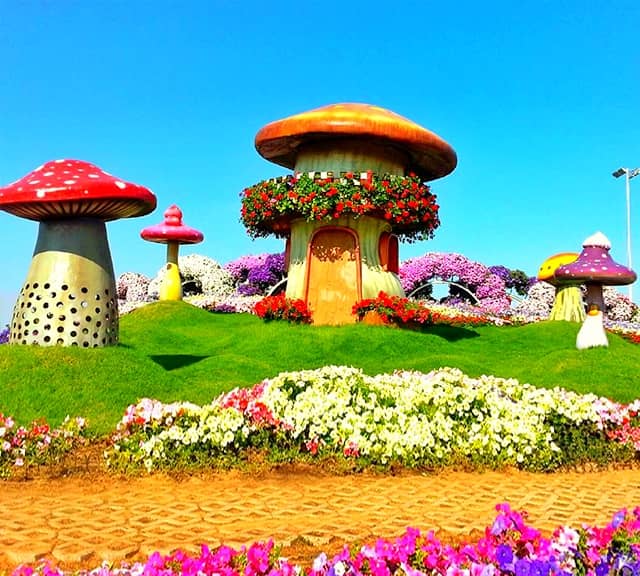 Unlike rest of the sculptures at the Dubai Miracle Garden, all the Mushroom Houses are not showered with too much flowers. However; they are surrounded with colorful rows and flower bedding of Petunia Flowers. These rows of Petunia Flowers are located near the walkways having blue, red, pink, purple and white colors. Only the main and biggest Mushroom House is decorated with flowers. It is surrounded with a flower bedding having red colored Petunia Flowers. It also has an upper balcony which is decorated with red Verbena Flowers. The horns of the elks have flowering pots. which are also decorated with multi-colored Petunia Flowers i.e., red & white and pink & white Petunia flowers. There are no real mushrooms at the sight, however; their presence would have definitely created a WOW-Factor as well. Some mushrooms do grow in desert therefore; trying them along with this theme would have been a great option.
f-Share
Tweet
Linkedin
Google+
Pinterest
VK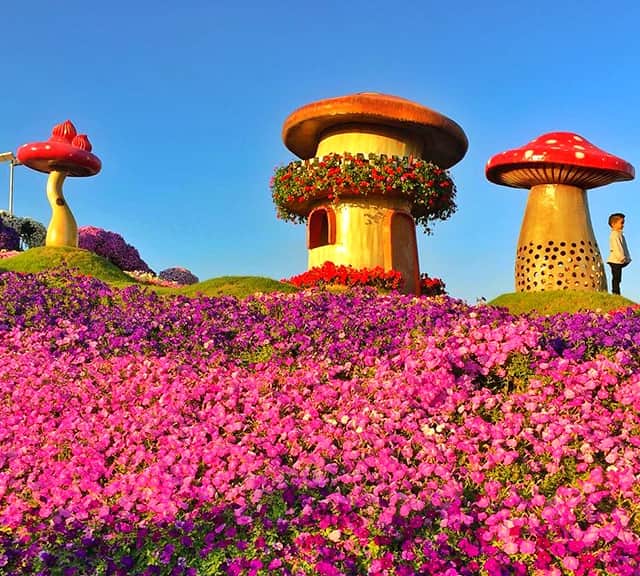 The bigger Mushroom House is as high as 12 feet. It has a door which is around 6 feet high and width of the door is around 3 feet wide. It also has window of having 2 x 2 width and height. The balcony of this main Mushroom House is around 2 and a half feet high. Its wall colorings are off-white colored while the door's color is brown. The head of the mushroom is of orange color. Rest of the smaller Mushroom Houses which are relatively small, range from 6 feet to 4 feet tall. They do not have any doors or windows. Their heads have purple, orange, red and pink colors with white dots over them. A standard sized elk statue with big horns is also sitting near one of the mushrooms.
f-Share
Tweet
Linkedin
Google+
Pinterest
VK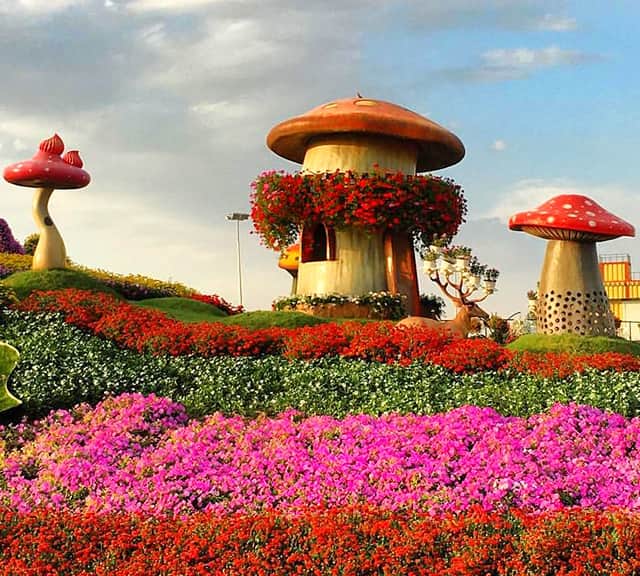 All the Mushroom Houses are solidly built with steel and tin material. These Mushroom Houses are one of the few sculptures of Miracle Garden which are not totally decorated with flowers. Even the ground area around the Mushroom Houses is not showered with flowers but rather lush green grass is utilized in that area. Since only one Mushroom has flowers over it, therefore; there isn't much of an effort required to maintain these Mushroom Houses at the garden. The only maintenance effort will be to regularly maintain the printing stuff on the mushroom and to re-grow flowers on the bigger Mushroom i.e., flower bedding around its base and flowers at its balcony. Rest there is just a grass which needs to be regularly trimmed; as grass and colorful mushrooms display an amazing sight.
f-Share
Tweet
Linkedin
Google+
Pinterest
VK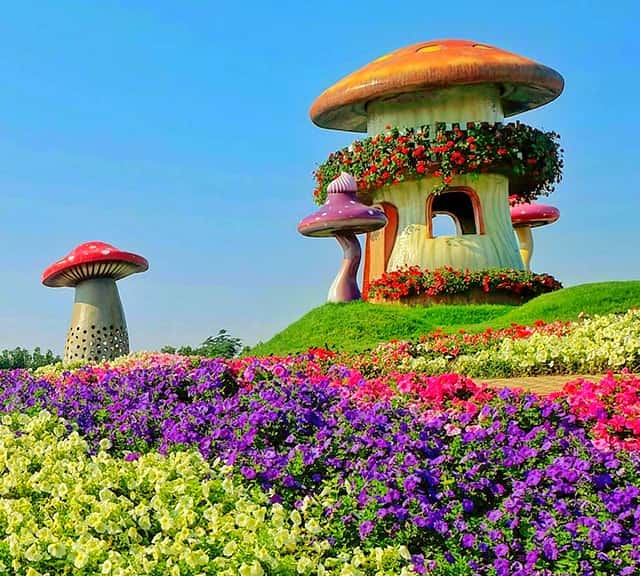 Mushroom Houses are very popular among the visitors at the Dubai Miracle Garden. It is one of the favorite areas of kids who relate these mushroom houses with Smurfs' houses or some kind of a fairy land. Since; the Mushroom Houses are located at a mini hill, therefore; you can have a complete photograph of Mushroom Houses its pathways. Also, you can go to the central bigger Mushroom House and have a photograph with it. Almost every photograph of the Mushroom Hills gives an impression of some surrealistic world. The only possible difficulty for the visitors might well be to spot these Mushroom Houses as the Mushroom are not too much big; therefore; they are not visible from the far away areas.
f-Share
Tweet
Linkedin
Google+
Pinterest
VK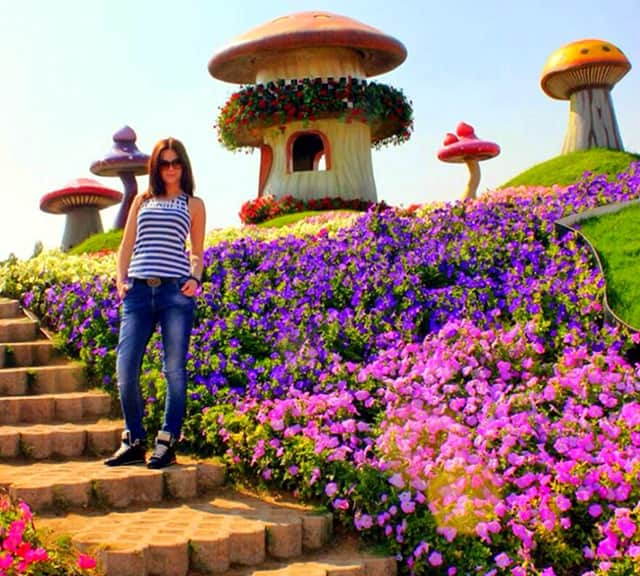 Author: Usman Masood
Published Date: May 20, 2017
Last Modified: May 20, 2017
Publisher: MIRACLE GARDEN BLOG

Genre: Dubai Miracle Garden, Flowers, Sculptures
Copyright Holder: © MIRACLE GARDEN BLOG
Copyright Year: 2017